Do you know what the ribbon cable is?
2021-11-16
Do you know what the ribbon cable is? 
Xiamen Yihetai Cable is also making ribbon cable. let me introduce you our ribbon cable.
A ribbon cable is a flat, thin cable composed of multiple small-grade cables placed parallel to each other. 
With each core situated side by side, they form a wide-flat cable resembling a piece of ribbon, hence its name. 
This type of cable is mostly used in electronic systems that require multiple data buses to link internal peripherals, 
such as disk drives to their respective drive controllers.Ribbon cables are also known as multiplanar cables.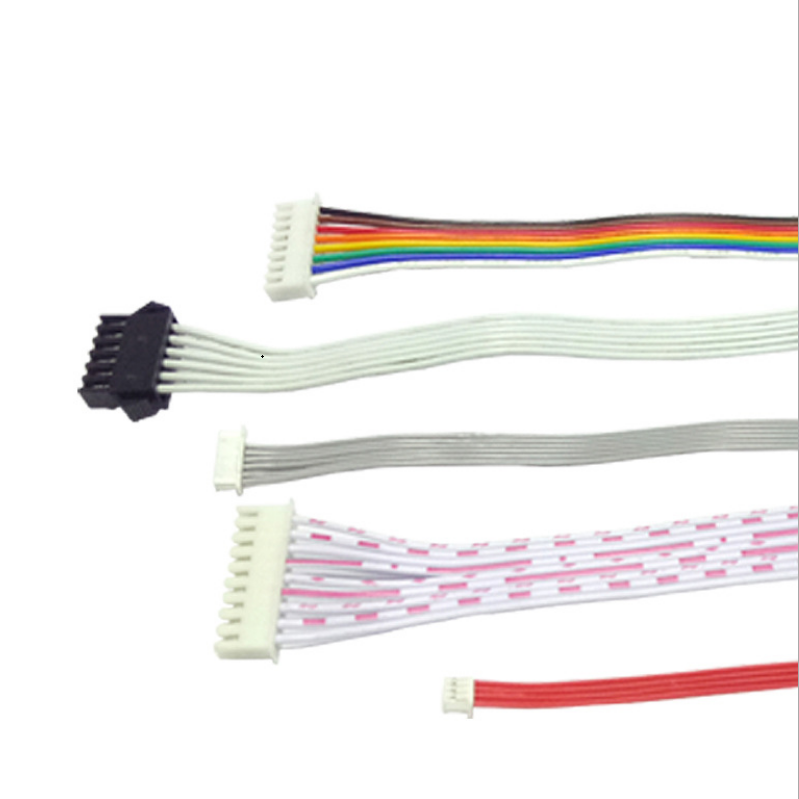 Flexible Flat Cable, referred to as Flexible Flat Cable, FFC, RFC. It is a kind of new data cable made of PET or other insulating materials and extremely thin tin plated flat copper wire pressed together by high-tech automatic equipment production line. It has the advantages of softness, random bending and folding, thin thickness, small volume, simple connection, convenient disassembly, easy to solve electromagnetic shielding (EMI) and so on.
Flexible flat wiring is mainly divided into two types: round ends (referred to as R-FFC for direct welding) and flat ends (referred to as FFC for inserting into sockets).
It is most suitable for data transmission cable between moving parts and motherboard, board to board, miniaturized electrical equipment. At present, it is widely used in the connection between the printing head of various printers and the main board, the signal transmission and board connection of plotters, scanners, photocopiers, audio, LCD appliances, fax machines, all kinds of DVD players and other products. In modern electrical equipment, almost everywhere.
The cost of FFC cable is better than FPC(flexible printed circuit), so it will become more widely used. In most places where FPC is used, FFC can basically be used instead.
What are the different types of ribbon cables?
The ribbon cable pitch of the connector and that of a ribbon cable is never the same. 
The ribbon cable is always half of the connector pitch. By this implication, when there is a two-row connector pitch, 
the ribbon cable pitch is usually half of the connector's pitch.
Most ribbon cables are color coded for pin one usually red in color. The cable types are Flat cable, Flat Jacket, 
Ground Plane, Round Jacket, Split Conductor, Flat Twin Axial, and 
Flat Twisted Pair with the number of conductors ranging from 2 to 154 and pitch ranging from 0.017" (0.43mm) to 0.394" (10.00mm).

Yihetai Cable was established in 2001, located in No.69 Xiangyue Rd., Torch (Xiang An) Industry Distric, Xiamen.
It mainly specializes in the production of hook-up wires,and wire -processing and wiring harness and cable assembly manufacturer and specialized in design,
processing and marketing of the harnesses.
There are about 200 employees in YIHETAI, 10 production lines which contain 5 lines not only adapting to varieties of small quantity production,
but also meeting the production needs of large quantity. Our clients are from all over the world in many countries and regions.
With its strong technical force, advanced management and strategic location, Companies adhering to the "customer first, forge ahead" business philosophy,
adhere to the "customer first" .Yihetai cable warmly welcome customers at home and abroad to visit for cooperation and common development.

Advantage:
OEM is welcomed.
We have provided support and service to our customers on their new design and new idea.
 Providing customized manufacturing solution from raw material selecting, production tools,
production technical and process to performance testing.

Small MOQ can be negotiated. We can do more than manufacturing.
We always believe that cooperation is not only mutually beneficial, but also leads to mutual development together.
That's why we are willing to consider small purchasing quantity. Tell me your demands, let's work it out together.