About us
YIHETAI founded in december 2001,mainly specializes in the production of hook-up wires and wire-processing. It integrates research with production and marketing and has been possessed of the privilege of import and export at its own. Our company is a professional manufacturer of wiring of the interiors of various kinds of electronic appliance and their exterior hook-up wires. Its products mostly are applied to the products of telecommunication, photo-electricity and for consumers'uses.
How to make a wiring harness for your customers
 when you receive a wiring harness inquiry and earn the order, the next you have to produce the wire harness.   Let's talk about the steps.ok?
1.you have to confirm the drawing with your clients. such as below drawing we make for our customers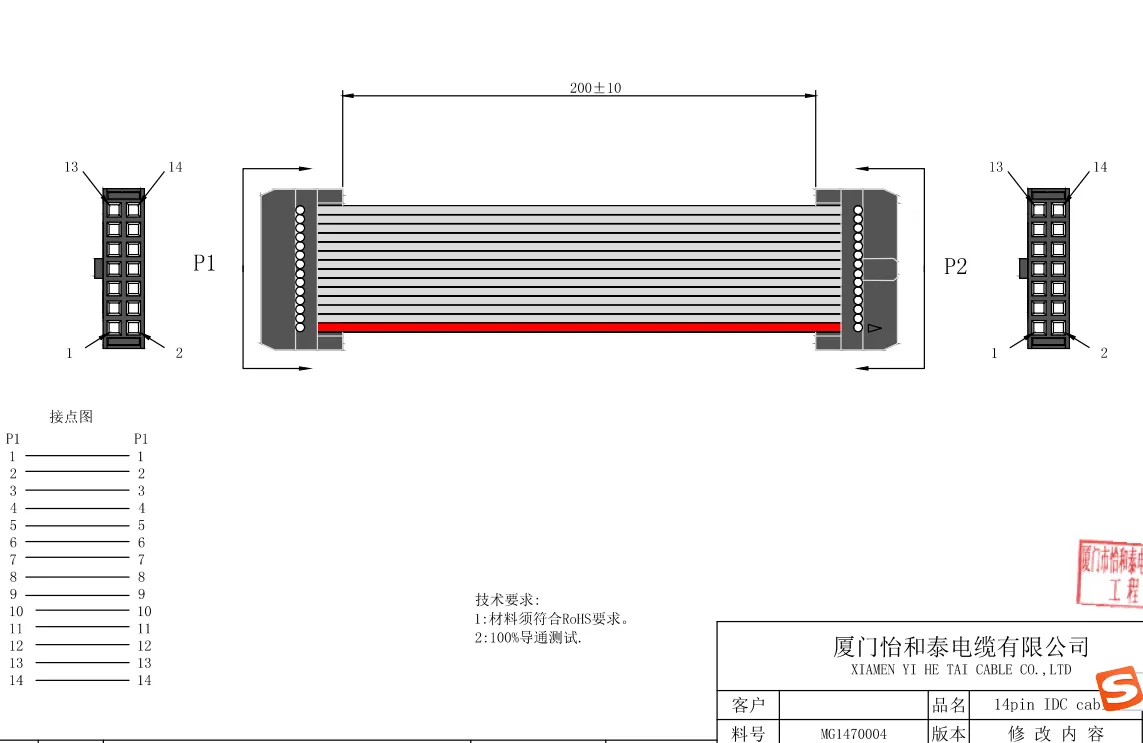 2.the second, preparing all the materials. and then following the 3 steps to make the wire assembly
Wire marking and cutting. You have to make the wires in a wiring harness must have the precise length called for in the design. Consequently, this first step in the process is critical. Assemblers measure, mark and cut every wire.
Wire layout. In this step, an assembler lays the wires out as directed by the wiring harness design. Once the wires are organized, the assembler may hold the wires in position with a cable tie or tape.
Wire termination. Every wire in a wiring harness must be terminated. Typically an assembler attaches each wire to a connector. They do this by stripping the insulation away, crimping contacts onto the end of the wire with automated or handheld crimpers and inserting the wire into the connector.
after this 3 steps, the wiring harness is finished, and then you have to test it , to check if everything is fine for working.
3.  wiring harness testing.
 all the length, the wire gauge, and the connector and the terminals are all right. the wiring harness words well. Then you really finish the wire assembly. You can send to you clients.
Company introduction:
Yihetai Cable was established in 2001, located in No.69 Xiangyue Rd., Torch (Xiang An) Industry Distric, Xiamen.
It mainly specializes in the production of hook-up wires,and wire -processing and wiring harness and cable assembly manufacturer and specialized in design,
processing and marketing of the harnesses.
There are about 200 employees in YIHETAI, 10 production lines which contain 5 lines not only adapting to varieties of small quantity production,
but also meeting the production needs of large quantity. Our clients are from all over the world in many countries and regions.
With its strong technical force, advanced management and strategic location, Companies adhering to the "customer first, forge ahead" business philosophy,
adhere to the "customer first" .Yihetai cable warmly welcome customers at home and abroad to visit for cooperation and common development.
Advantage:
OEM is welcomed.
We have provided support and service to our customers on their new design and new idea.
 Providing customized manufacturing solution from raw material selecting, production tools,
production technical and process to performance testing.
Small MOQ can be negotiated. We can do more than manufacturing.
We always believe that cooperation is not only mutually beneficial, but also leads to mutual development together.
That's why we are willing to consider small purchasing quantity. Tell me your demands, let's work it out together.
wire assembly, wiring harness,female to female jumper wires
wire assembly, wiring harness,female to female jumper wires
wire assembly, wiring harness,female to female jumper wires