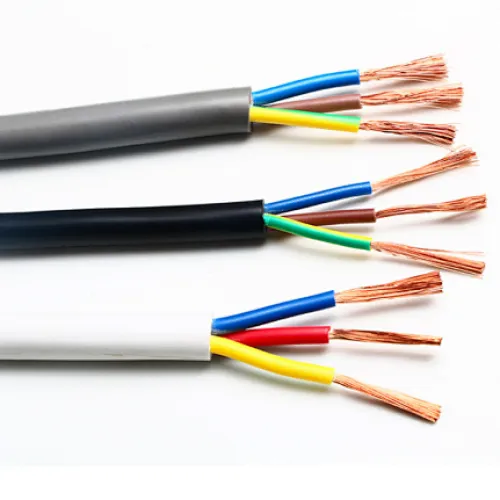 Factory Wire electric 2 core 4 core wire 80C 300V PVC insulated PVC sheathed multi conductor cable
Factory Wire electric 2 core 4 core wire 80C 300V PVC insulated PVC sheathed multi conductor cable   
Products description:
factory electric 2 core wire,
300v PVC insulated cable,
sheathed multi conductor cable
RVV cable:
sheathed multi conductor cable
Rated Voltage: 30V

Rated Temperature: 80ºC

Insulation Material: SR-PVC, PP

Jacket Material: PVC

Conductor: Tinned or Bare, Stranded or Solid Copper

Optional: AL-Mylar, Copper Braided, Copper Drain Wire

Reference Standard: UL758

Passes UL VW-1 & CSA FT1 vertical flame test.

Uniform insulation thickness of wire to ensure easy stripping and cutting.

For internal wiring of electronic and electrical equipment and appliance, Computer, USB Data Cable, Audio and Video, Electronic Circuits.
 factory electric 2 core wire,300v PVC insulated cable, sheathed multi conductor cable
Style RVV

Multi -core cable
sheathed multi conductor cable

Rating

80, 90 or 105 deg C, 300 Vac, Horizontal flame.(

sheathed multi conductor cable)

Conductor

30 AWG - 2 AWG, solid or stranded

Insulation

Extruded PVC.

Conductor size

Minimum average thickness

Minimum thickness at any point

30-10 AWG

15 mils

13 mils

9-2 AWG

30 mils

27 mils

 

 

 

 

 

 

 

 

 

Covering

Optional, Extruded PVC, 9 mils minimum average thickness, 8 mils minimum thickness at any point.

Standard

Appliance Wiring Material UL 758.

Marking

General.

Use

Internal wiring of appliances or electronic equipment where not subjected to movement or mechanical damage. Tag may also indicate the following,"600 Volts Peak for Electronic Use Only."